Hidden Gems series by Michael Kennedy, Strabane History Society
If you are looking for hidden gems search no further than the sky above Strabane. Yes! The sky!
Everyone sees it…but no one notices it: unless you are a weary traveller, returning home. Then it is a beacon in the sky, guiding you home, especially at night, and particularly on a clear night.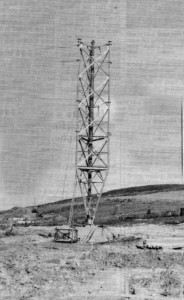 In 1963 the commercial T.V. Company, Independent Television Authority, raised the capital to expand their growing home entertainment business to the north west area of Ireland, into the counties of Tyrone, Derry and Fermanagh; parts of Donegal benefitted as well. In the townland of Legfordrum, on the top of the hill known as Meenashesk, at a height of 1095 feet, building crews arrived from various parts of England, Scotland, Wales and Ireland. On land belonging to George King, the excavations were started. The workers were housed originally in temporary accommodation to shelter them from the harsh weather, as the metal frames arrived on large low loaders. The television mast rose to the height of 305.5 metres i.e. over 1000 feet. It is built on a ball which moves very slightly to allow for the pressure of the high winds on the tower. It is secured by a series of huge guy cables embedded in concrete casings.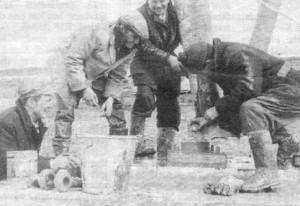 In the early years there was a team of engineers, security men and caretaking staff, a secretary and a cook, all based at the mountain station. The custom-built station housed a bank of television monitors, sound relaying systems and communications facilities linking Meenashesk to head office. A Land Rover was provided to ferry the staff from Strabane; the team maintained a round-the-clock service operating in all weathers.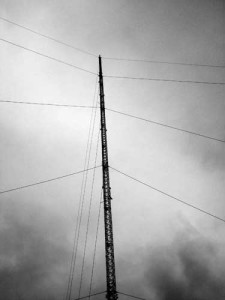 To put this gem in perspective, the Leaning Tower of Pisa stands 56 metres high, the Samson Crane at Harland & Wolff in Belfast is 106 metres, the Millennium Spire in Dublin is 120 metres, the London Eye measures 135 metres, the Great Pyramid at Gaza 139 metres and the T.V. Mast of Strabane is 305 metres high. And families came from far and near on Sunday excursions to look at it – it became quite a tourist attraction in its time.
The T,V, Mast is now in the ownership of ARQIVA and the signal reaches out to service 34,000 homes in the North West area of Ireland. It sends out signals and attracts travellers. Strabane travellers will tell you that when you see the welcome red lights in the sky at night you are indeed close to home.
The Strabane T.V. mast celebrated 50 years in service in 2014.