The name of James Hughes will not meet with instant recognition in the annals of Strabane. Unlike Dunlap, Wilson, O'Brien or Alexander he did not write a page of history on the world stage or influence the destiny of the Tyrone town. But in his own right he deserves a mention in the story of Strabane as he remains an interesting, intriguing yet mysterious character for those who remember the man known affectionately as Gandhi, the Man with no legs! He was a hidden gem!
Born James Hughes, some claim from the east coast of England near Grimsby, others claim he was born a cockney within the sound of the Bow Bells in the city of London. Some claimed categorically that James Hughes came from a little known village near Evesham called Pershore in the County of Worcester, on the River Avon, born in the year 1887.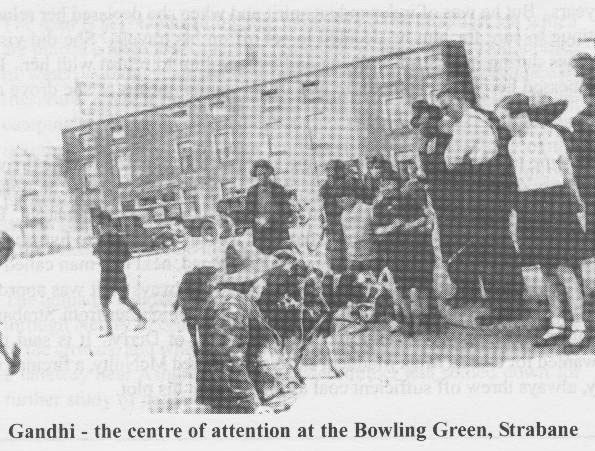 During the First World War he was involved in a most tragic rail accident while working on the railways in Canada which resulted in his legs being severed from his body. He was left with two stumps, one measuring 3 inches, the other 6 inches. He then went to live with a sister much older than himself who looked after him for many years. But he was of independent spirit and when she declared her reluctance to continue to care for him he decided to set off on his travels. She did visit him many times during his life in Strabane and begged him to return with her. People who witnessed her visits claimed she was of substantial means as she drove a posh car!
How he came to reside in Strabane no one knows. It is claimed that he arrived by train in Derry on the G.N.R. broad gauge in the early 1930s. At first he lived near Prehen on the outskirts of Derry. He then lived for a short time at Artigarvan. People who remember him say that, from early days, he was given a place to live on ground belonging to the G.N.R. at Roundhill on the Derry Road, next to a man called Harry Duke. It is claimed that he had a great fondness for railways so it was appropriate that he lived close to the narrow gauge Donegal line which ran from Strabane via Ballymagorry and Donemana into the Waterside area of Derry. It is said that he never wanted for coal as Mick Madden, a driver, and Fred McNulty, a fireman on the railway, always threw off sufficient coal as they passed his plot.
He lived in a small hut or shack, built for him by Herdman's of Sion Mills who took pity on him. They built it and transferred it from the village of Sion to the Derry Road It was made of wood and rushes. It was placed along the hedge row on a slope down the garden which was visible from the road. Those who passed by on the Ulster Transport buses often saw him sitting working in the garden. It is reported that he was delighted with the house, given to him free of charge. Mr. Hughes had nothing, only a few pounds available to him from his Post Office book.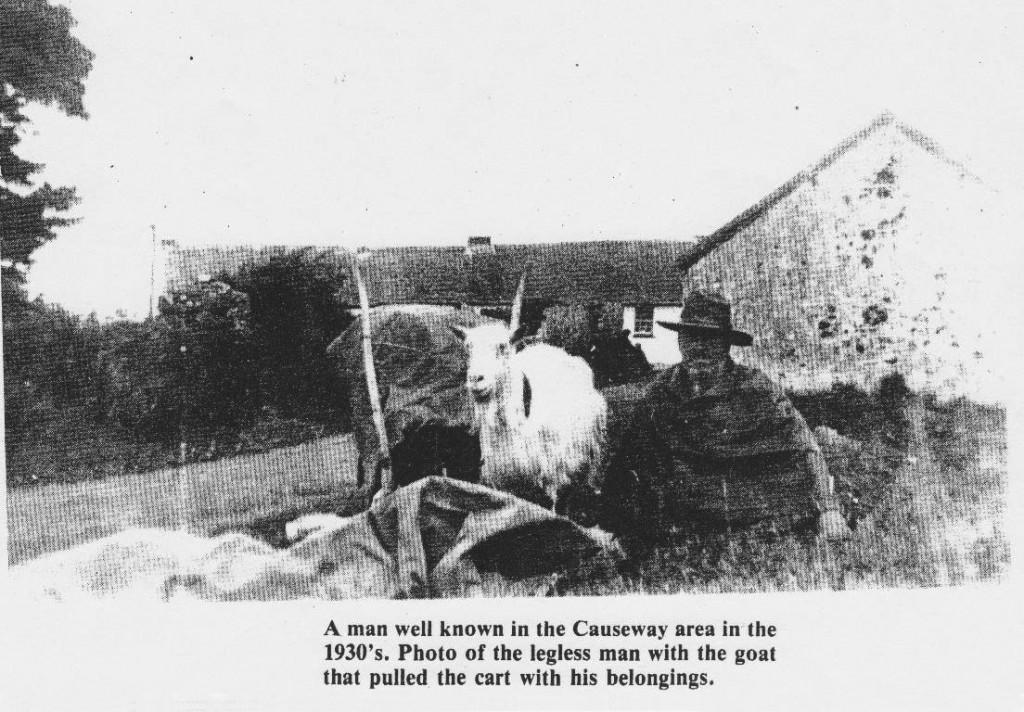 Despite his disability James Hughes was an extremely active man. He moved about the town and countryside independent of others. He used two small blocks which he held in both hands as he slid along. These blocks were twelve inch railway keys which were hard wood timbers used for packing the rails. He had a leather padding, made from a horse's collar, packed like a cushion, to support his lower body. This pad he made and stitched himself. He also wore a short pair of corduroy trousers around his legs. He normally wore a leather jacket in winter and on wet days. During warm summer days he wore a shirt and had a scarf around his neck. On his head he sometimes wore a small, neat-fitting hat with a small feather in it. At other times, and especially during wet weather, he wore a large mountie-type broad brimmed brown Stilson hat. According to those who knew him he was round faced, weather-beaten and tanned with long fair hair. He was handsome with a lived-in face. He had very powerful shoulders and tremendous power in his arms. He could swing himself up onto a chair. He was a very independent man, to the point of being 'thran'. He wanted to do everything himself and would have refused any help offered to him if he could have done something himself. He did not go to church and claimed to have no religion at all.
When travelling a distance such as a visit to the town he travelled on a strongly constructed cart. This cart was made of heavy timbers, well supported by cross beams. The wooden wheels, made locally for him, were shod in heavy iron. It is interesting to note that the cart was spring-loaded. He carried a can of oil with him at all times and was seen frequently oiling the wheels and the springs. He carried many of his possessions on the cart, including a hurricane lamp and a can of paraffin. "He packed all his belongings on the cart.
He kept a couple of goats and was often seen travelling with one of the goats pulling the cart. At other times he propelled himself with a long stick which he held in both
hands. He also had a tiller or steering handle on the front which he used to steer the moving vehicle. Although the cart was high off the ground, mounting or dismounting did not present any difficulty. "That trailer would have been some height off the ground.
He used to come into town to do his messages. He was a frequent visitor to the railway station where he would pick up a parcel from the office. He would sign his name, James Hughes, in the most perfect hand-writing. He would go into several shops to buy food and other household items, put them on his cart and then visit a local hostelry for a couple of bottles of guinness. He would come into Willie Kennedy's bar in Abercorn Square, make his way into the private snug, swing himself up on the padded bench and ring the bell.
When sitting in the corner of their kitchen he would frequently doze off to sleep sitting up. But William McLaughlin would vouch for the fact that he slept with one eye open and his arms folded.
This episode was towards the end of his life and was the only time people remember Gandhi being ill. Although admitted to hospital he was a poor patient and refused to stay. Gandhi left the hospital and got into the ambulance driven by Johnston Brown. When the ambulance stopped at Dan Kelly's, where Hughes lived, he refused to get out. He told Brown to take him to Mrs. McLaughlin's at Burndennett. Although Mrs. McLaughlin did not quite know what to do she suggested to Johnston Browne that he could stay in her house for a few days. She kept and fed Hughes but continued to advise him to return to the hospital for his own sake. He left Burndennett for the last time with the intentions of returning to Strabane Hospital. He was found dead at the small house in Dan Kelly's garden on 3 May 1963. He was 76 year of age when he died.
Days later the police arrived at the McLaughlin house to enquire about living relatives. The police told Mrs. McLaughlin that he had a few pounds in his possession at the time of his death, one estimate puts it at £200. On 4 May 1963 he was taken directly from Strabane Hospital for burial in a small oval-shaped coffin. It is assumed that the money was used to pay for the cost of burial, carried out by the undertaking firm of Alfie White, Railway Road, Strabane. He is buried in plot 9, section (a), sub section (h), in the new upper section of Strabane Cemetery.
The name of Gandhi has always puzzled local people. Some people speculate that his looks resembled the Indian leader of the 40s who fought for independence for the state of India.
So it was that an English man called James Hughes lived during three decades on the Derry Road. He was a phenomenon in that he survived against all the odds, without medical care and attention, he lived in humble surroundings in relative poverty, and in isolation, befriending kind neighbours and friends, but maintaining his independence proudly till the end. Such was the mystic of the man known as Gandhi, the Legless Man!
By Michael Kennedy